Description
Debt bottom waterproof index:More than 3000MM
Stent material:Iron
Brand:elite
Product Code:E03
Size: 455 * 305 * 215CM (length X width X height)
Foreign account: 210T polyester cloth 3000mm hydrostatic UV Standard: UV50 +
Inner tent: 210T polyester cloth plus high density 3000mm hydrostatic + Insect yarn.
Ground cloth: 210D Oxford cloth Oxford 3000mm hydrostatic wear thick fabrics
Tube: six high-strength steel paint 19mm, two 16mm painted steel, three 11mm fiberglass rods (black), a pair hall brace (2).
Nails: Steel posted nails 16
Cord: reflective wind rope 8
Package Size: 68X26X26CM portable zipper bag
Features:

Lots of space 14 square feet, two-bedroom, bedroom and anteroom isolation, people driving family activities, outdoor tables and chairs lobby put a barbecue picnic chess pleasure, rainfly whole lid against storm, wind resistance!
Fannie and Freddie aluminum tent automatic models
Deluxe Edition genuine new two bedroom 4 Office: information and pictures below
Brand:Orthodox schoolJACKALBrand(Korean original single)
Product Code:J05
Size 360X240X180CM. Length X width X height
Instructions
Weight: 16.0kg.
Foreign account:Spill-resistant flame –190T polyester taffeta PU waterproof coating cloth, resistant to water pressure is greater than 4000mm, rainfly whole seam located pressure PU waterproof tape heat,Prevents infiltration of rainwater from the seams. Fabric water repellent treatment, generally no water repellent treatment tents, tent easy immersion after contact with rainwater, which penetrate into our tent there will be formed on the surface of the outer tent drops after water repellent treatment.
Inner tent: 190T breathable water repellent polyester taffeta fabrics, and lightweight fine grid yarn: P / MESH 68X68B1.
backing: Flame ~ spill-resistant 250D Oxford waterproof 5000MM above bottom
stays: Inner tent automatic retractable stinger +4 root frontier irons.
accessories: Nails 17 ,, wind rope 8.
Outsourcing: 210D oxford cloth PU waterproof coating carry bags collapse. (Packing size 100 * 20 * 20)
Features: structural stability, its good wind, cold, rain performance! Rainfly whole pressure PU waterproof tape, large rainfly package in the end, `warm wind rain enhanced performance. Rainfly can be removed, Inner tent can be used alone, front and rear door design, more ventilate brighter, more convenient access. Front and rear doors are equipped with four poles, as shown in the door cover to prop up the Office immediately larger and higher, longer. Around, faces six windows with anti-mosquito nets in the sand(Keep clear air tent), Waterproof outer fabric, the design that is also warm and waterproof ventilation, rest in tents make you feel very comfortable. Tent to nail each corner, the wind rope fixed account body.
This tent. Quite perfect~ ~ Domineering enough grades high enough quality(You have to admire foreigners quite perfect design talent – the quality of meticulous attention to detail in every possible way – rigorous pursuit)
This tent tent and domestic market requirements of the same size and the same tent in more than 4,999 yuan please at the time of purchase to compare, we have factories, sales price is 1/2 of the market entirely cost
JACKLBrands 6-8 automatic tent fabric and external accounts are up to 3,000 hydraulic pressure, fabrics are all high-end waterproof fabric, water repellent fabrics are treated at the splice are waterproof layering, complete system parameters such as the rain along the line inside the tent . Make the tent more waterproof when it rains. This both waterproof and breathable fourth quarter camping tents, rational style design style beautiful 2 bedroom 4 frontier hall tent, size 360 * 240 Inner tent can accommodate 6-8 people in there to rest and sleep.
100% real shot does not add any modification
PE mat is a Gift,But just for this tent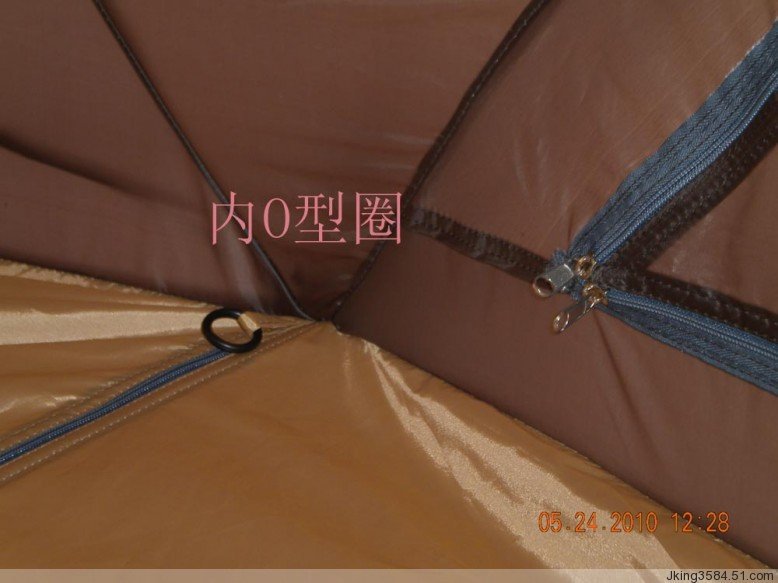 Quality and commitment:
1. Receipt Note:
To protect your interests, before freight delivery company staff on leave, a comprehensive examination clearly the quantity of goods within the parcel, accessories are complete; the appearance of the goods is damaged, demolition and other non-normal conditions and then sign for the goods. If you or your family, friends, classmates or guard agreed to sign for the goods, it means that you have to acknowledge receipt of shop goods and check no different. If you spot found in the presence of the usual receipt of goods, please refuse to sign for the goods and immediately made contact with the restaurant.
In order to fund the timely flow, please buyers friend received the goods, confirmed within 48 hours in case of quality problems, to deliberately delay confirmation time buyers or malicious evaluators (non acclaim outside) is shown as a waiver of cancellation Association Terms of Service! (To speed up the time of payment, to avoid the backlog of funds. Thank you for your cooperation!)
2. The integrity of sale:
Our products are brand new packaging, and no sample is completely stock. If you have to nail the period and wind rope is lost or damaged, please contact us, we will provide you with free spare parts supply, but postage themselves. We do our best to provide you the most attentive service!
Read tent picture believe that you do not doubt the quality of the tent of the bar, please reassure parents buy it!
3, the pictures are taken in kind, does not add any modifications, we also try to provide you with detailed product introduction.
4, Product Description: Baby details of presentation we did for the necessary technical specifications and standards of products, product descriptions, without exaggeration and praise for the baby of the explanation.
5. Our products are themselves so where the plant (the company `ISO1004 quality certification by ISO9000`ISO9001 environmental certification), specializing in the production scale of more than 300 tents. Products are for export more than a single, quality workmanship " `has by foreign professional environmental testing to ensure good quality assurance and affordable. Please majority of customers feel comfortable buying.
6, quality problems: regular factory supplier, will conduct strict inspection before shipment, have any questions be sure you properly addressed.